Make a non-alcoholic Vampire Blood Punch using cranberry juice, Sprite, strawberries and grenadine syrup - recipe at Squidoo
.
Photo: Squidoo
Instead of Jack O'Lantern, make a Bat O'Lantern
via Family Fun
Make Vampire bites using a mini-candy bar, white frosting and red tinted cookie dough shaped into lips via
M and M Bright Ideas
Photo:
M and M Bright Ideas
This Bat Hat is a no-sew creation made with a black hat and stiff craft felt with instructions by
Family Fun
Photo: Family Fun
Pillsbury has this recipe to make Vampire-Away Garlic Bites using crescent dough, garlic stuff olives and sesame seeds.

Photo
Pillsbury
Print off this bat print by Mr. Printable and tape around a regular candle for eerie effect.
Photo: Mr. Printable
What vampire wouldn't enjoy a refreshing lime chiller with blood drippings - recipe at TLC Cooking
Photo: TLC Cooking
Bake this Raining Blood Red Velvet Cake - recipe at Apocolypse Cakes Photo: Apocalypse Cakes
Ameroonie Designs had a tutorial on making this Batty Felt Pillow
Photo: Ameroonie Designs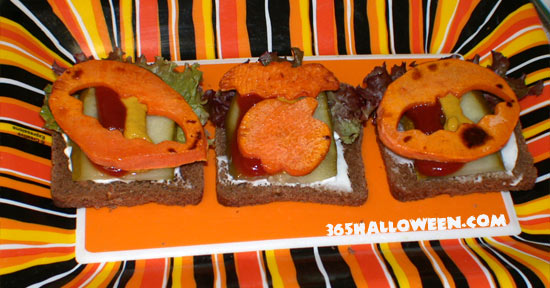 Make batty fried yam sandwiches for a healthy alternative snack - instructions at 365halloween.com\
Photo:
365 Halloween.com