A few years back I posted collection of
Altered
Dolls
and as I find them fascinating, I thought it would be a good post for today.
GOTHIC ANGEL
Trash2treasure
created a gothic looking angel with a baby doll an a book.
Photo: Source
This creepy devil baby was created by
Deceased Art
is the things nightmares are made of; not surprisingly, it has sold and is no longer available, but there are other creepy altered dolls
Mummified Baby Doll
Check out
Mummified Baby Doll
on
Cut Out + Keep
for a tutorial on how to create a versionof this doll that was used for a prop for a live role play vampire game. This one I find the most disturbing of the bunch with the features obscured.
Fork Legged Baby Doll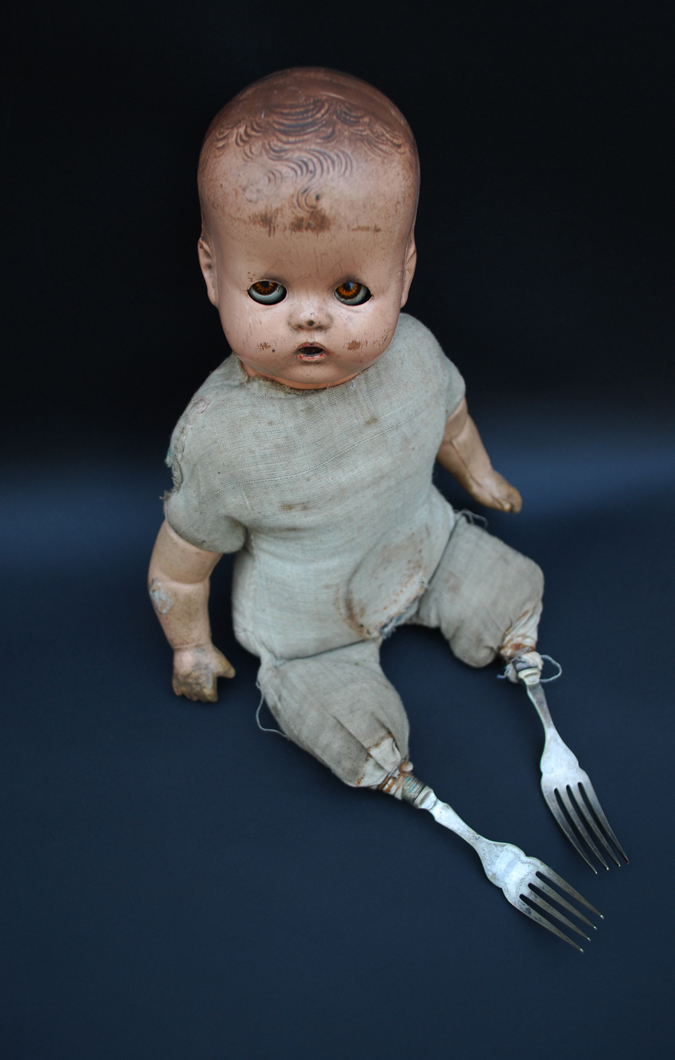 Photo: Source
This is by ceramic artist Martha Todd using a found doll and forks; the fragile, worn doll with the sad expression with the steely legs is a bit unsettling
Unsettling Mermaid Doll
Source:
Pinterest
Not much information on this, but sharp teeth make this fishiness ferocious. Could probably be made using paint, markers, removing the dolls legs and wrapping in black electrical tape.
Zombie Baby Doll
Voodoo Altered Doll
Photo:
Pinterest user Cari'ssa Karol-Chik
What a clever way to upcycle an old doll into an interesting piece that would be great for Halloween.
Isabel Living Dead Doll Inspired
Something about blackout eyes makes takes the doll from cute to cold and souless.
User
Dead Kiss
has a tutorial on how to create your own with a doll, paint and nail polish.
Check out
Isabel Living Dead Dolls Inspired
on
Cut Out + Keep
-
Ice Ice Baby
Baby, its cold outside. This unique creation by user
Mistress N
on
Cut Out + Keep
is made using paint and Epsom salt.
For tutorial check out out
Ice Ice Baby
on Cut Out + Keep
Thanks for checking in. If you have any altered doll links to share related link or comment, please post in the Comments.
Be sure to check out the other participants of
this years Countdown to Halloween at the link below.